Begonia Hybrid Miss Montreal wins Fleurostar Award
Dümmen Orange is proud to announce that the FleuroStar Award 2016/17 goes to its Begonia hybrid Miss Malibu.
Nadine Rijk, Breeder of Miss Malibu, and Josep Maria Padrosa Benet, Product Manager, accepted the prize from FleuroStar Committee Chairman Heike Gronemann and Sally van der Horst, Secretary General of Fleuroselect. The new 'Winner with the Wow Factor' was announced at the Green Inspiration Event on Thursday 16 June in Amsterdam (NL). This networking event is organised by the Dutch media agency Tuinbouwcommunicatie in cooperation with Fleuroselect.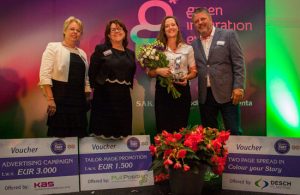 Miss Malibu, a tropical taste in beautiful Begonia
With its massive dark pink blasts of colour, Miss Malibu brings flavour to the garden. This FleuroStar Winner displays a wealth of huge double flowers that simply cannot be overlooked in the garden centre. Thanks to its semi-trailing plant habit, this miss is perfectly suited for containers, hanging baskets and bedding schemes. Consumers will love this excellent garden performer which provides continuous colour throughout the summer until the first frost.