Dümmen Orange Product Line-up Starts Strong at Recent Southern Trial Gardens
COLUMBUS, Ohio (June 15, 2023) – Dümmen Orange team members recently attended garden trials held by Metrolina Greenhouses and Young's Plant Farm. Breeders, vendors, and trade representatives from the horticulture industry observed how well new plant varieties performed in minimal care garden conditions.
Both 2023 trial gardens saw record-breaking attendance and Dümmen Orange served as a sponsor for the industry event.
Dümmen Orange received top marks from attendees at both trial gardens. These included new and improved varieties from Dümmen Orange, the world's largest breeder and propagator of cut flowers, bulbs, tropical plants, pot plants, bedding plants and perennials.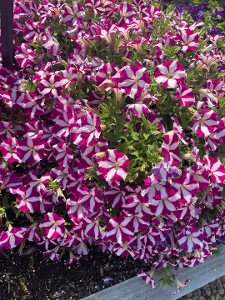 New for 2024, Petunia Sweetunia Purple Star was a show-stopper as it could be spotted from across the other side of the garden. Powered by Intrinsa®, this variety has perfect form and flower coverage.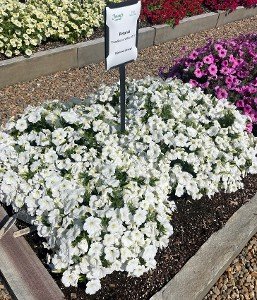 Petunia DuraBloom® White is an improved white variety now powered by Intrinsa®. It is the most durable and floriferous petunia series for year-round performance through a multitude of weather conditions. Daylength neutral and very vigorous, its mounding habits can reach up to 2-feet in height in the landscape and are trailing.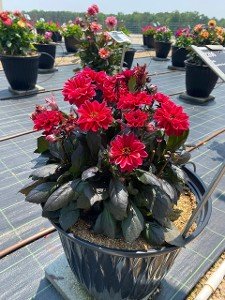 Dahlia Revelation Series is new for 2024. Presenting a rich, dark green foliage with brightly contrasted semi-double flowers, it has uniform timing and habit. Its open pollen attracts pollinators like few others.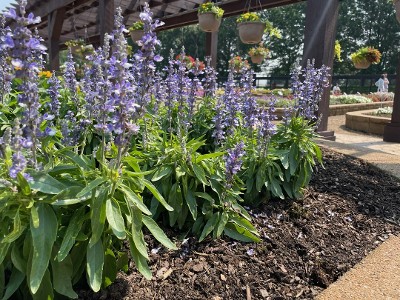 Salvia Icon Blue Bicolor is truly a sight to see. The Icon series is known for its mildew-resistant foliage, its flower power and heat tolerance. Excellent branching allows it to hold up to weather and the blooms are a true bicolor with each flower exhibiting a gorgeous gradient from medium to light blue.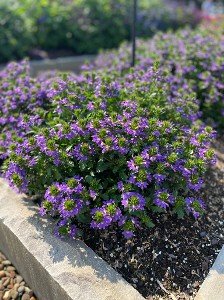 Scaveola Scala Blue Jay is ideal for growers and consumers due to its low maintenance. Being drought-tolerant, this variety has an extremely long bloom season.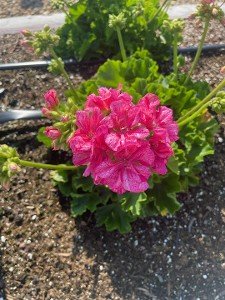 Geranium Big EEZE Pink Batik is also new for 2024 and will never be forgotten due to its unique mosaic pattern. This variety is an interspecific hybrid with outstanding garden performance. Another memorable feature is that it has the heat tolerance of an ivy and the looks of a zonal geranium.
Dümmen Orange looks forward to participating in both trial gardens again in 2024.