Dümmen Orange Contributes Nearly $250,000 to Yellowstone Forever, Yellowstone National Park's Nonprofit Partner, from Sales of Yellowstone Petunias Over Past 3 Years
COLUMBUS, Ohio (Oct. 17, 2023) – Dümmen Orange is closing in on $250,000 in donations to Yellowstone Forever, the official nonprofit partner of Yellowstone National Park. This total includes donations over the past three years from Dümmen Orange to Yellowstone Forever.
"We are thrilled that a floricultural leader like Dümmen Orange continues to support Yellowstone through our organization's unique partnership with them," said Sam Barkley, senior director of strategic partnerships for Yellowstone Forever. "Yellowstone Petunias capture the essence of how amazing the park truly is. This program helps support priority park projects while allowing gardeners everywhere an opportunity to enjoy a symbol of Yellowstone at home."
Yellowstone Forever Petunias debuted in 2021 when Yellowstone Forever teamed up with Dümmen Orange to sell a special variety of petunias at independent garden centers and leading retailers throughout North America. This special variety of petunias was created by Dümmen Orange to commemorate the world's first national park, Yellowstone, which was established in 1872. Royalties from the sales of Yellowstone Forever Petunias benefit Yellowstone National Park, a place where visitors can observe wildlife, explore an extensive area of active geysers, and view the many natural wonders that exist all year long.
Major home improvement retailers and leading independent garden centers already offer Yellowstone Petunias. Dümmen Orange expects the program will continue to expand in the independent garden centers segment and potentially to other national retailers.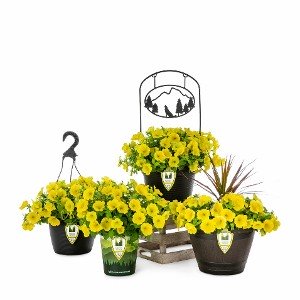 Yellowstone Forever focuses on funding key projects for the world's first national park, with wide ranging support including sustainability efforts, the historic Yellowstone Wolf Project, Native Fish Restoration, Yellowstone Cougar Project, Bison Conservation and Transfer Program, and the Youth Conservation Corps, among many other park priorities. Donor support helps to fund these important projects and ensure the future of Yellowstone National Park for generations to come.