Customer testimonials
Riverview Flower Farm
Seffner, Florida
"Basewell is fast and efficient to transplant with no losses. The pinched rooted cuttings respond quick after transplant and grow uniformly. Basewell eliminates 7 to 9 touches we typically do with URC's allowing us to significantly reduce labor and reduce propagation greenhouse space. Basewell allows us to adhere much closer to our planned schedule by further eliminating the variables in the propagation processes and delays in liner to production transport processes. I'm old enough to remember when plugs were first introduced and I see this as a similar transformative moment for vegetative products. We will use Basewell for every vegetative item that becomes available in our annual, combo, basket and perennial programs." - Rick Brown
Allan Plant Company
Pleasant View, Utah
"We had grown osteospermums in the past but it takes so long to get them rooted and up to size we decided to discontinue them. Once we saw they were going to be part of the Basewell program, we put an order in for Osteo's! We have had great success with all the trial plants we received. It has been exactly two weeks since we received and directly planted our shipment into 4" pots. Everything has roots to the sides of the pot. The Basewell rooting system is phenomenal! I can't wait for spring so we can get more of the Basewell cuttings!" - Tom Allan
Photos taken 5 weeks after transplant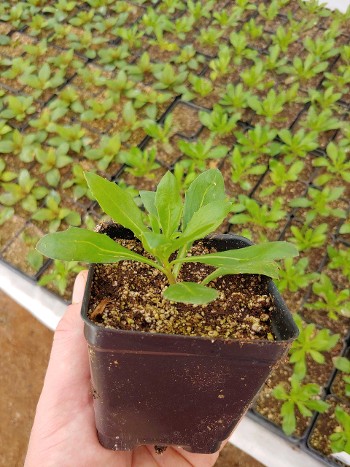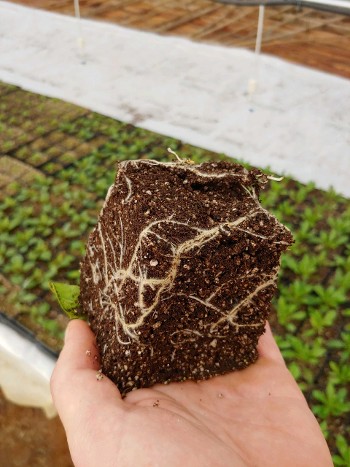 Parkhill Plants and Trees
Tahlequah, Oklahoma
The Basewell cuttings were planted directly into these containers with no protection and overhead sprinklers only. The Bloomtastic calibrachoas were doing well and it had been very hot during those seven weeks.
Photo taken 7 weeks after transplant
Anonymous Grower
California
"We were impressed that Basewell could be rooted out in a typical humid propagation area equally well as an open greenhouse with a bit of frost cloth for protection. Almost as durable as a rooted liner!" - Head grower
Photos taken 8 weeks after transplant
Kalamazoo Specialty Plants
Kalamazoo, Michigan
"We weren't sure these were for us, but seeing the success, we'll find a way to use them next year. It's a great development."
Photos taken 7 weeks after transplant
Moraine Gardens
Plymouth, Wisconsin
"They came all healthy and bagged and we made sure to plant them right away as to not let them wilt or anything since they had exposed roots in their clips. The planting process is easy and straight forward - you plant them similarly to your other small plugs (maybe just a little more care, since the roots were exposed and we didn't want to break any)." - Rachael, head grower
Photos taken 3 weeks after transplant
Weidner's Gardens
Encinitas, California
Five weeks post transplant, the plants were freshly spaced and pinched - the plants were a bit neglected because they progressed so quickly.
Photos taken 5 weeks after transplant
Edgewood Greenhouse
Mukwonago, Wisconsin
These plants are three weeks old from planting, not running any heat and they have had cool nights. The owner calls it "incredible."